Imran was made captain of the Pakistan team in 1982 and led the Pakistani team
under his captaincy to victory over every other cricketing country in the world.
He moulded them into a great team through his skills and understanding and taught them
what team spirit was and made the players give their best instead of just playing
for themselves.
When Imran was captain he insisted on having veto powers over selection which didn't go
down too well with the BCCP council members.
In 82-83 Pakistan slaughtered Australia by beating them three times in a row.
Copyright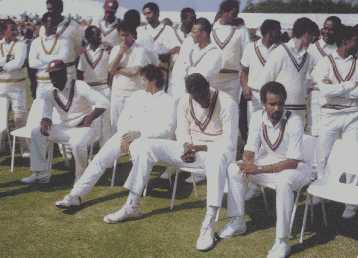 In 1985 when Imran came out of his two year
gap due to his injury, he was still Pakistan's
best bowler and won the test series
against Sri Lanka at home 2-0.
Imran led the Pakistani team to it's first
victory against India on their home soil.
Imran's greatest achievement was to beat
West Indies but the 86-87, 87-88 & 90-91
series were all drawn under his captaincy,
however the highlight of the 86-87
tour was Imrans' amazing 6-46 at Karachi.
Pakistan beat England away in 1987, this was Pakistan's first test victory over England.
Imran retired from cricket after the 1987 world cup, and came out of retirement in 1988
after being pressurised by President Zia and the public.
He captained Pakistan in the world cup in 1992 which they won. Imran played greatly
all throughout the championship and it was his 72 that was the decisive innings in
Pakistan's victory, which made Pakistani's in all corners of the world feel really proud.
Imran saw this as a golden opportunity to raise money for his mission to build a cancer hospital
but certain members of the Pakistani team thought they should gain from this glory
and this led to Imran's departure from cricket.
Imran has highly regarded Clive Rice as an all rounder and feels that he is most similar to him.
He has always had great faith in Wasim Akram and as quoted in his autobiography
"All Round view" will become a great all-rounder.
[ Home Profile Statistical Record Injury Hospital Marriage Politics Guestbook ]