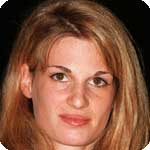 Imran married Jemima Goldsmith, daughter of the late multi millionaire, Sir James Goldsmith in 1995.
She had accepted Islam and taken on the name of Haiqa.
Many people thought this marriage was a mistake and would be
doomed as Jemima was non muslim and also thought of as
an immature girl who would not make a good wife.
The western media criticised the wedding thinking that Jemima was being naive
and would not be able to cope with a different culture.
However Jemima has to date proved everyone wrong, although there have been
some ups and downs in the marriage but which marriage doesn't go through those?
Jemima has tried her level best to fit in with the people of Pakistan by
wearing traditional clothes and learning about the culture and language,
as well as being actively involved in charity work.
The late Princess Diana, a close friend of Jemima seeked the couples
assistance during her troubled relationship with Dr. Hasnat Khan.
Imran and Jemima have two sons named Suleiman and Kasim.
[ Home Profile Career Summary Injury Hospital Politics Guestbook ]