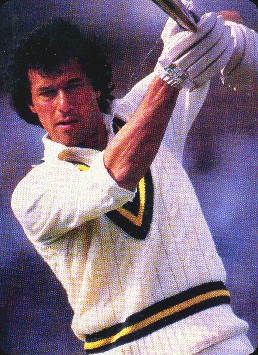 It was on the second day of the second test against
India at Karachi in December 1982, when Imran
experienced pain in his left shin bone whilst
getting out of bed. This incident at a later
stage transformed his career, life and shape
of Pakistan cricket for two years. However
Imran continued to play not realising what
serious damage he was doing.
The doctors that were initially consulted thought
this was a case of bad bruising as the fracture
was invisible at first. On 1 April 1983, Xrays
revealed a huge crack in Imran's shin bone.
Imran was admitted to Cromwell Hospital in April 1984,
and the treatment was subsidised by the Government on
General Zia's personal recommendation.
The leg had to be put in a cast for six months, which meant
no physical exertion on the body. Imran felt despressed
during this period and he spent a lot of time by himself
by taking camping trips to the mountains and spending weeks
in the wildest and remotest parts of Pakistan. Whilst being
there he learnt to love the country and the people in it,
during this time Imran mellowed as a person and learnt to
become more tolerable.
On 1 October 1984, xrays showed that leg has healed completely.
Imran was well enough to play international cricket in 1985.
[ Home Profile Career Summary Hospital Marriage Politics Guestbook ]